Legal Standing of Online Poker in Canada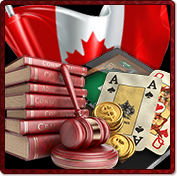 Canadians have made their mark at poker tables across the country, around the globe, and especially online. Poker isn't just the perfect showcase for our prowess. It might just be the cure for the winter blues. Why come face to face with the arctic chill when you can play poker on the internet instead?
Despite the game's mass appeal, many Canadians have questions and concerns about playing poker legally online. Although there is plenty of irrelevant noise from our American neighbours and even scholarly debates on our side of the border, it is possible to play online poker legally in Canada. While some experts contend that online poker exists in a legal grey area, other opinions suggest playing online is entirely permissible. Either way, there are plenty of online poker rooms that welcome Canadian players. You can even find government run sites in some provinces, as well as global sites that are based within our borders. Read on and discover how to play legally in the great white north, no matter what season it is.
Legal Online Poker at a Glance
Provincial gambling agencies in Quebec, Manitoba, and BC offer legal poker games to their residents.
Players in Ontario can enjoy video poker through OLG, but community card poker games won't be available until the spring.
The gambling age in Canada varies by province, game type, and venue but is either 18 or 19.
The Kahnawake Gaming Commission of Quebec has been licensing and regulating gambling sites for 18 years.
Many international sites welcome Canadians of legal age, even if the legality is subject to debate.
Canadians who have legal doubts can always enjoy free poker games with no obligation.
Understanding Canadian Laws
Since Canadian Confederation in 1867, the federal government and provinces have shared powers and responsibilities. Some areas like citizenship, trade, foreign affairs, and banking are strictly under the federal government's domain. Yet each province is responsible for matters like education, health care, and granting business licences with their borders. Other domains like justice, public works, immigration, and agriculture are shared. Although the federal criminal code once banned all form of gambling, lotteries were legalized in 1969. More importantly, the provinces were given authority to regulate all forms of gambling in 1985 and that includes poker games.
Provincial Differences
If you've ever travelled across this country, you know that each province has its own way of doing things and that's especially true when it comes to gambling. The legal age not only varies by province, but you won't find casinos and poker rooms in every part of the country. Of course times are changing with several provinces now operating online casinos for their residents. These government sites are fully legal by any measure and several of them offer online poker. You can find provincially operated poker rooms in British Columbia, Ontario, Quebec, and Manitoba.
Unfortunately, these provincial poker rooms are only available to residents who are physically present in the province where they are based. Despite being completely legal, critics have complained that these sites lack the game variety, player pool, and promotions of offshore sites.
Heading Offshore
If you've ever watched sports on Canadian television, you've surely seen ads for online poker rooms. While the promise of everlasting entertainment and huge prizes are enticing, many viewers wonder if these sites are actually legal. Can television stations air advertisements for illegal products or services? Ethics aside, it's worth noting that most of these sites operate from locations outside of Canada, yet they do welcome Canadian players. This is precisely where online poker enters the legal gray area we mentioned earlier.
You already know that online gambling falls under provincial jurisdiction. Yet things can get more complicated when a player is in Canada and the games are hosted in some other country. If a poker fan in Calgary takes a virtual seat at a table hosted in England with players from France and Scotland, where does they game actually take place? Whatever your answer is, it's hard to argue that the game is based in Canada and should be governed by Alberta law. In reality the cards are dealt by a computer program running on a server thousands of kilometres away.
Just like the government can't stop you from flying to Las Vegas for a poker tournament, they can't stop you from logging onto a site across the globe. It's ultimately a philosophical rather than a legal debate. Keep in mind that offshore sites are licensed and regulated in the jurisdiction in which they operate.
Unless you plan on opening and operating your own offshore online poker room, legal concerns rarely come into play. No Canadian player has ever been criminally charged with playing poker online.
The Poker Difference
Unlike slot machines, roulette, and the vast majority of casino games, poker is a game of skill. Your success is at least partially in your hands. To win, you'll need to outwit your opponents in what often feels like a game of psychological warfare. That's a huge distinction in the eyes of the court. Many provincial regulations apply strictly to games of pure chance like lotteries and raffles. It's also why you're more likely to meet a successful poker pro than someone who makes a living playing slots. When you play poker, you really can influence the outcome.
Another key difference is that online poker rooms don't really have a vested interest in the outcome of the games they provide. When you play blackjack, your opponent is the dealer. The casino only wins when you lose. As we mentioned earlier, poker pits you against other human players. As a result, the online poker industry operates by an entirely different business model, especially in the eyes of the law. Poker rooms simply host games by supplying the servers, software, virtual tables, and payment systems that make the magic happen. They collect a small rake from each player, which is how they make their money. Even if you view poker as gambling, you aren't wagering against the house, which is a huge legal distinction.
Kahnawake First Nation Sites
Several of the world's top online poker rooms are actually based and licensed in Quebec, although not by the provincial government. Flashback to your high school history class and you will recall that Canada's First Nations have lived here for over 12 000 years. For this reason, Aboriginal Canadians have a right to self determination and territorial sovereignty. Since 1999 Kahnawake First Nations have been exercising that right.
The Kahnawake Gaming Commission licenses and regulates online poker sites from the Mohawk territory just outside Montreal. Although sites are based on the reserve, players of legal age are able to play from all over the world. The commission ensures that all games are fair, players are treated fairly, and personal information remains private, among other requirements.
Playing Legally And Tax Free
One of the benefits of gambling in Canada is that your winnings are largely tax free. If you win a lottery jackpot or poker tournament, you'll get to keep all your winnings. The only exception is if you are a professional gambler who makes your living by playing poker. If that's the case, chances are you are doing well at the tables anyway. You'll also be able to write off your losses under these circumstances. If you are a poker pro, you'll want to consult with an accountant or financial planner in your province for the best route to take. If you haven't quit your day job, your bankroll will likely be entirely yours.
The Canadian Way
Did you know Canada has the second most WSOP bracelet winners in the world? If you dream of becoming the next Daniel Negreanu or Jonathan Duhamel, Canada might just be the perfect place to realize your potential. With plenty of places to play including fully legal options, it's easy to see why many Americans flocked to these parts after a stateside crackdown in 2011.
Whether you choose provincial sites or prefer to play offshore, always play at licensed and regulated poker rooms. Read the expert reviews and comments from other Canadians to find a poker room that's perfect for you. If you still have concerns about the legality of playing in your area, you can always enjoy free games, many of which offer prizes and other perks.