Top iPhone Poker Apps & Games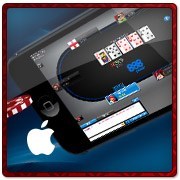 iPhone users in Canada can now enjoy the best real-money online poker anywhere, anytime.
With a tap or swipe you can use your brand new iPhone 6S to access the best gambling sites on the net. Play the same No Limit Hold'em or Omaha games you enjoy on your Mac or PC. The only difference is that everything is redesigned to suit your smaller screen.
And don't worry about missing out on bonuses. With an iPhone online poker room you can get great welcome bonuses when you sign up.
At OnlinePoker.ca, we have a round-up of the very best mobile online poker sites for iPhone players. Our unrivalled reports will get you started in the exciting world of iPhone gambling.
Enjoy the best real-cash gambling on iPhone:
The best cash games and tournaments on your mobile
Slick software perfectly designed for your touch-screen
Enjoy great welcome bonuses when you deposit
With so many great recommended sites for iPhone available, choosing the right casino for you is all about the perks. has several, like an exclusive monthly freeroll of $1000.
Rank
Poker Site
Benefits
Bonus
Review
Play Now
1

$88 + 100%
up to $888
No deposit required for $88 bonus
Exclusive monthly $1000 freeroll
$10 cash bonus with $30 deposit
Read Review
2

100%
up to $500
$100,000 in monthly freerolls
Safe site with good reputation
Earn up to 50% back in rewards
Read Review
3

100%
up to $600
$600 bonus is good for 3 deposits
Largest poker site in the world
Weekly tournaments worth millions
Read Review
How to Play Poker On Your iPhone
Once upon a time, gambling on a mobile phone seemed like light years away. However, with technology improving all the time, it's become more possible for gaming sites to adapt software for portable devices.
The iPhone has risen to become the must-have piece of mobile kit for Canadians everywhere. And while it's still on the pricey side, the sheer power of iOS 7.0 makes playing the most complex games a breeze.
iPhone online poker works similar to a desktop game: you download a software client (app) and load the games lobby in the same way. However, individual cash games and tournaments are shrunk to fit your touch-screen. The main information is maintained: betting buttons, Fold, Check and Buy Chips, while a drop-down swipe menu lets you get back to the Lobby instantly.
There won't be room for a chatbox, and multi-tabling is pretty tricky. However, for a fast game on the go, iPhone poker online is hard to beat.
Downloads vs No-Download
Some poker sites allow downloads for iPhone. These can be found in the App Store or direct from the site itself. Just hit the 'Download' button and install an app for free. You can create a username and password if it's your first time, or use the same login details you use for the online version.
Don't worry about your password being stolen, as most iPhone sites will never store passwords on their sites.
If you can't find a native poker app, a no-download option is a good alternative. Here, you just log-in at the online poker homepage via your phone. When you want to play a game, you just load up a real-cash table instantly via the Safari browser.
Systems and Updates
Before you get started, it's worth making sure your iPhone can handle the poker software. The older iPhone 3 might be fine for playing Angry Birds and surfing the net but it probably won't cut it for gambling.
As a rule, try to have iOS 7 or higher running on an iPhone 4 or better. You can update your iOS via iTunes if it's showing its age.
When you play online poker on your iPhone, you'll be using a 3G/4G network or WiFi. If you can, try to connect using WiFi as it's more reliable. You also won't be charged data usage when out and about. Mobile poker can seriously dent your data package. If you're in doubt about data, check with your mobile provider to see how much you have each month.
iPhone Poker Problems
The biggest issue any mobile phone user in Canada has with poker is having a phone call mid-game. If you do receive a phone call the poker site will disconnect you from the game. You'll usually have around 30 seconds to get reconnected. After that, you'll be out of the hand and left 'Sitting Out' until you log back in.
Mobile online poker players sometimes experience a lag when playing. Certainly, the delays can be slower than when playing on a desktop or Mac. You will also usually be disconnected if you move from a 3G network to a Wi-Fi connection, or vice versa. Be aware of any connection problems before you play.
Getting the Best Bonuses
Mobile online poker for iPhones is slick, convenient and fun. You can join in free-play tables, or hit the big-money guarantees all on one 5" screen.
But with regular play comes great bonuses. Mobile iPhone poker players can enjoy the best welcome bonuses on the Internet with our recommended rooms. Just download an app or get playing via instant-play sites to access a cool promotion today.
With even the most basic bonus you can earn hundreds of Canadian dollars for playing your favourite games.
FAQ
Is the iPhone good for online poker?
Yes, iPhones are excellent for online poker. Iphone is the most popular and arguably the most advanced smartphone on the market today, and they definitely have the best selection when it comes to apps. Usually when a poker developer comes out with an app, it will show up in the Apple app store before any other type of smart phone. Iphones also work great for no download poker, which you can access right from your mobile browser. Iphones are the best for displaying graphics as well, especially the newer models with larger and more advanced touch screens. Iphones do make an excellent platform for online gambling, whether you use the mobile browser or download apps.
What models are compatible?
Just about every model of iPhone is compatible with online gambling. Iphones have been around for so long now, though, that some of the older models may not work as well as the newer ones. This is because online gambling, whether in the browser or on an app, usually has very advanced graphics and takes up more memory than other sites. Old iPhones just may not have enough processing power to handle new style graphics. If your phone is able to display web pages nicely and play flash videos and animations without freezing or lagging, you should be able to handle casino sites without any troubles. Otherwise, it might be time for an upgrade!
What should I look for in a good iPhone site?
Mobile users are the fastest growing customer base in online gambling, and the best sites know how to cater to this emerging market. Good iPhone sites will have all of the following features – easy to load graphics, excellent choice of games, a strong customer base, superior security and great customer service. Graphics should be smooth, load fast and be specially designed for a mobile browser, not just a mini version of the regular site. Iphone users get bored quickly so the site should have a lot of game versions to choose from so that you don't go looking for a new site to play at. Mobile phones can be vulnerable to attack from hackers, so the site you use needs to have the best security measures to make sure your information stays secure. They also need to have excellent customer service in case something does go wrong.
Should I use an app?
Whether or not you choose to use an app to play poker for real money depends on a few factors. Think about which you value more – trying out new sites or picking a favorite to come back to again and again? Do you have a lot of space on your phone? Would you rather have something that is specifically designed for iPhone, or are you ok with a more basic graphics package? If you are looking to try out a bunch of different games, you might not want to download a ton of apps. Instead, try them out on your mobile browser. If you already have a poker site that you love to play at, you should download their app rather than logging in to the mobile site each time, which will save you time and hassle as well as give you faster load times. Apps usually have graphics that are suited to mobile phone screens, while mobile sites tend to look like mini versions of the web site. Considering all of these factors, a lot of people feel that apps are the way to go when gambling on an iPhone.
Where can I find good poker apps?
The first place to look when you are searching for good poker apps would be the Apple app store. Here you will find every single poker app listed out for you. Just search for "poker" and they will all show up. The problem is that you might have to look through hundreds of apps in order to find one that you like, unless you have the casino name ready to go when you search. This can be time consuming and frustrating. This is why we put together our list of the best poker apps for iPhone. We already looked through those hundreds of apps and found the ones that are the best in terms of graphics, game selection, customer service, security and more. Check out our list to see all of these apps with their features listed out so that you can choose your favorites and try them out today.
What are the best apps or games?
The best iPhone apps for poker players have three things in common – great graphics and game play, a nice selection of games to choose from, and really strong security features. Security is one of the most important things when you are playing on a smart phone, because they can be vulnerable to hackers even more than regular computers. This is because smart phones usually access public wifi hot spots, while regular computers are usually in private homes or businesses so they are not quite as vulnerable. A good app should also have a strong selection of games so that you do not have to play the same type of poker over and over again. Graphics are also important – these should be specially designed for iPhone users so that they do not use up a ton of bandwidth, but still look great. Check out our list of the best iPhone poker apps for Canadian players to choose from.
Is it rigged?
No, iPhone poker apps are not rigged. Online casinos have a number of ways that they can communicate to you that they are 100% fair and safe to play. One of the most recognizable is eCOGRA certification, or another type of third party certification. These third parties check the site up and down in order to decide if they play fair or not. They make sure that numbers are generated in a truly random fashion and that there are no loopholes giving an unfair advantage to the house, as well as checking general security measures to make sure your information such as credit card numbers and personal data remains safe. You can also check out reviews and sites like our list of the best iPhone apps for poker to choose from sites that have been rated, reviewed and vetted by experts.
Can I try for free?
Yes, you can! The easiest way to try poker games out for free is to access them through the mobile browser. Most sites want you to play for real cash when you download the app, so by accessing the mobile site you can guarantee a free game. You do not have to create a new account with the casino to play for free, either. Just go on to their site and find the free game page and you can play anonymously without betting real cash. These games usually won't be as challenging, because the best players go to the real money games so that they can start making a profit. Free games are a great way to build up your skills before heading in to the real money rooms.