Top Canadian Online Poker Sites 2023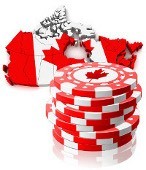 If you're looking for the best online poker rooms for Canadians, you're in the right place. We are the premier resource for real money online poker players from Vancouver to Halifax.
It doesn't matter whether you're an Omaha player in Ontario or an MTT player in Montreal, we'll show you where to find the best action on the web.
We'll guide you in making real money deposits and getting the most out of your CA bank account or card. We'll even let you know how online poker sites keep safe and secure.
You don't have to be Daniel Negreanu to benefit from our expert information. We cater for beginners taking their first Hold'em steps and seasoned grinders alike. The hardest job you'll have is picking which amazing site to play at.
Hunt out the best online poker sites for CA players:
Play against the bigger player pools in the world
Compete at a range of stakes for the biggest prizes
Earn the best welcome bonuses and VIP schemes on the net
1

$88 + 100%
up to $888
No deposit required for $88 bonus
Exclusive monthly $1000 freeroll
$10 cash bonus with $30 deposit
Read Review
We only list the best of the best from the online poker world, and you are guaranteed:
Secure Banking
100% Legal
Lots of action
Freerolls
Great Sign Up Bonuses
24/7 Customer Service
Solid Reputation
Choosing a Top Online Poker Site
Online poker is experiencing another boom right now. The sheer spread of games and stakes has never been better. Canadians can play Hold'em on their PC or Mac without downloading software, and mobile online poker rooms allow you to gamble on the move.
And when it comes to stakes, nothing beats the range of online poker games. Many sites offer freerolls to give players without a bankroll the chance to win cash. Micro-stakes tables let you spin up a small budget, while big-money tournaments allow you to take a shot at the big time.
We have ratings of the best online poker sites on the net in 2023. You can also read reports on the latest mobile poker online apps and games, perfect for Android or iOS players.
The best online and mobile sites for Canadians
Top software that works on PC, Mac or no-download
Innovative developments like fast-fold poker and Missions
What Makes A Good Canadian Poker Room?
With so many hundreds of online poker sites to choose from, where do you even start? Our reviewers have spent years playing at and reviewing online poker rooms. They know which sites are worth depositing at and which are worth avoiding.
Being Canadian players, our OnlinePoker.ca team knows which websites are best for Canucks. That huge online poker room might have lots of players, but what if it has a poor record of accepting Canadian bank cards? And it's no good if a site has big-money tournaments but you get charged for converting C$ into US dollars or Euros.
Benefits of Canadian-friendly poker rooms online:
Deposit and withdraw using Canadian dollars
Software and games in French AND English
Satellites into live events in Canada and the USA
Being able to use a Canadian payment option is important. You want to avoid fees and currency conversion charges when you play online poker. The best gaming sites usually waive fees when you deposit or cash out, but your bank might not be so accommodating. Our team flags up any banking options that will cost you.
If you live in Quebec, you might need games and sites in French. While most of the leading online poker rooms have dual language, some don't. Save time and cash by following our Canada-friendly reviews.
Finally, if you want to win buy-ins into the biggest live events in Canada or America, we'll show you how to find the best satellites with lots of guaranteed prize packages.
Games To Suit All Budgets
There's one huge advantage online poker has over its live cousin: picking your stakes. Most gambling websites let you play poker online from as little as $0.01/0.02. Even better, new players can enjoy daily and weekly freerolls that cost nothing to enter. Hone your skills, learn the rules, and win a few bucks totally free.
Texas Hold'em games running 24/7
Cheap buy-ins for recreational players
Big guarantees to make your bankroll go further
As you improve, you can take advantage of small-stakes cash games and Sit 'n Gos. Popular sites have plenty of players so you won't be left waiting for a game.
And if you're a comfortable player looking for some bigger action, our recommended sites will point you in the direction of million-dollar tourneys and special festivals.
Stay Legal and Secure
Even if you've found a fishy Hold'em game to play in, it doesn't matter if the licensing isn't up to scratch. We only feature sites that possess a legit gaming license.
The most secure poker transactions and payouts
rusted licenses from the biggest jurisdictions
Audited software for a fair game
With proper licensing comes a responsibility to protect players' personal details and funds. Gambling online can be risky, so it's vital for players in Canada to trust the poker sites with their money.
Luckily, at OnlinePoker.ca we've seen all kinds of poker rooms come and go. We've been able to compile a blacklist of online poker sites so you know who to avoid.
Earn an Online Poker Bonus, Whatever Your Budget
Even if you're playing at the low stakes, you can earn free cash when you play online poker. The rooms are desperate to attract new customers all the time. As a Canadian real money player you can make a first deposit and have your cash "matched" by the poker website, just for playing.
The more you play, the more player action points you will earn. Points can then be converted for C$ or tournament tokens. Sites vary in the bonuses they can offer, and we'll show you how to make the most out of your bankroll.
Blacklisted Poker Websites
Closed
Once a thriving site, Lock Poker went into a downward spiral as soon as rumours of problems with player payouts started. By 2014 the site stopped operating and players found themselves short-changed.
Closed
Rocked by cheating scandals and its domain seized by the US Department of Justice, Ultimate Bet sank like a stone. As it sank into bankruptcy players fled the site in droves. Today the site is not fondly remembered.
Closed
A sister site of Ultimate Bet, this site suffered the same cheating scandals and domain seizures. Once a powerhouse in the online poker world, the site is now cited as a prime example of how things can go badly wrong in the industry.
FAQ
Is online poker legal in Canada?
Yes! It is legal to play online poker in Canada. But, like everywhere else in the world, gambling has not had a totally smooth history in terms of legality in Canada. Laws have been on the books since 1892, when they restricted but did not totally ban gambling. This original law has been amended over the years until 1970, when significant changes allowed each province in Canada to have most of its own authority over the licensing and regulation of gambling. Today, this applies to both online and casino gambling. Some provinces such as Winnipeg and Montreal have embraced the gambling industry and opened up casinos. It is not legal to operate an online casino in Canada, but residents can play online poker at any international casino.
What is the minimum age to play?
In Canada, gambling is regulated at the Province level, not by the Canadian government. This means that each province gets to set its own rules for how old their citizens must be in order to gamble, including online gambling, buying lottery tickets, and playing at casinos and poker rooms. Most commonly, the minimum age is 19 years old. Some provinces such as Ontario have the age limit set at 18.
How is it regulated?
Gambling was first regulated in Canada by the Criminal Code of 1982. The code has gone through many changes over the last century to allow gambling in varying levels of legality. In 1910 the code was amended to allow the occasional game of chance, as long as all profits went to charitable organizations. The Canadian government made massive changes to the code in 1970, allowing the creation of a multi-billion dollar industry in Canadian gambling. Canada's first casino opened in 1989 in Winnipeg, and now most provinces have their own casinos. One type of betting that is not legal is sport event betting. You can bet on a multiple-match tournament such as the National Hockey League tournament in what is called a parlay, but you cannot bet on individual matches.
How do I begin playing?
It is easy to begin playing at any online casino. You can simply search for Canadian online poker rooms, find one that you like and create an account. The first thing you should look for is game selection. Make sure you pick a site to play at that has all of your favorite online poker variations. It is easier to stay at one site for all of your games if you find one that you like, rather than creating a bunch of new accounts all the time. Once you have an account, use your credit card, debit card, e-wallet or another deposit method to add money into your casino bank roll. Then you can start playing, betting and winning right away!
Can I play in Canadian Dollars?
Yes, you can play in Canadian dollars. There are several casinos out there that allow you to easily deposit, play and withdraw your money in CDN. There is also the option of playing at an international casino in whatever currency they automatically go for, and have your CDN deposit automatically switched over to the local currency wherever the casino is operated. For example if you play at an Italian owned casino, you would automatically see your Canadian Dollars turn into Euros after you make a deposit. To do this you should use a site such as Paypal or another online e-wallet site so that you can easily withdraw and exchange your money back into CDN.
Can Canadian players play at any site?
Yes, you can play anywhere. Since it is totally legal for Canadians to play online gambling games, you can easily access any internationally owned casino and start playing. You might want to search for sites that specifically accept Canadian dollars, because this will make it easier when you are depositing and withdrawing money from your online poker account. Otherwise you will have to exchange your currency every time you take money out of your account, and with varying exchange rates this could cost you a significant amount, especially if you play often.