Paysafecard Poker Deposits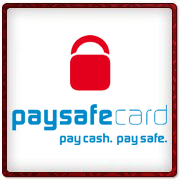 Using Paysafecard poker deposits is one of the simplest and easiest ways Canadian players can transfer money to their online poker accounts. There are plenty of advantages to using Paysafecard as your first choice deposit method and the following article will give you an insight into how Paysafecard works and the service it provides for you.
Paysafecard is known for providing a quality product for its customers.
Majority of online poker sites accept Paysafecard as a payment method.
There are no additional fees on every transaction.
Each deposit is processed within seconds, ensuring instant access to poker games.
Paysafecard are completely unique in regards of security and safety.
Rank
Poker Site
Benefits
Bonus
Review
Play Now
1

$88 + 100%
up to $888
No deposit required for $88 bonus
Exclusive monthly $1000 freeroll
$10 cash bonus with $30 deposit
Read Review
2

100%
up to $500
$100,000 in monthly freerolls
Safe site with good reputation
Earn up to 50% back in rewards
Read Review
3

100%
up to $600
$600 bonus is good for 3 deposits
Largest poker site in the world
Weekly tournaments worth millions
Read Review
Online Poker Sites Accepting Paysafecard
Finding a reliable payment method is vital when playing online poker, but knowing which sites are the best to play at is just as important. If you're struggling to find the perfect site for you, our experts review every poker site available in Canada and are up to date on where the best poker games are at. Whether you're a beginner or an experienced player, the quality of the poker site matters the same and hopefully we can provide the necessary information to help you make the most of your online poker experience.
Each and every online poker site we recommend to you accept Paysafecard as a deposit method and offer a whole lot more. For example, the security and safety standards are at the highest level at every poker site on our list and this is something that every poker player needs when playing online and constantly being around a large amount of money. Additionally, Paysafecard allow every customer to be completely anonymous with each deposit as no personal information is required, which makes depositing even more secure.
How Paysafecard Deposits Work
Paysafecard deposits are very easy to carry out and the popularity of this method is growing due to its simplicity. The first step to depositing at an online poker site is purchasing your Paysafecard, which are available at all local retail stores throughout Canada. At first, this can put people off the idea of using Paysafecard due to accessibility, but the service that this method provides makes up for the initial process of purchasing your card. Paysafecards are available to purchase at a range of prices, such as; 10, 30, 50, 100, 150 or 250 C$. This gives you some flexibility and allows customers with a small budget to still experience using this payment option. In addition, once you've chose the value of your card, you will be given a 16-digit PIN with your purchase and this is used to confirm your online deposit.
After choosing the online poker site you want to play at, simply open the cashier within the software and choose Paysafecard as your payment option. Then all you have to do is enter the value of your deposit and the 16-digit PIN to confirm the transaction. The process is extremely straight forward and not having to enter your personal information saves a vast amount of time and adds an extra element of security to your deposit. Also, you don't have to worry about having any additional fees when depositing using Paysafecard, which is a huge incentive to start using this method.
There are an abundance of payment methods to choose from, but deciding to use Paysafecard will be the best choice you've ever made. Simple, secure and hassle-free deposits will allow you to experience online poker like never before. So, check out all of the best sites here and start playing online poker with Paysafecard.