VISA Debit Poker Sites 2022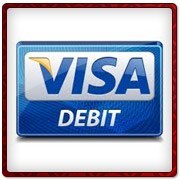 VISA Debit cards are one of the easiest and safest ways to deposit and withdraw poker funds.
If you already have this credit card it only makes sense to use your VISA debit for poker deposits because you don't have to sign up for anything or wait for funds to transfer it to a ewallet. VISA debit poker deposits also help Canadian players avoid the chance that their local bank may block the transaction. The sites listed here are the very best available online.
The best thing about VISA Debit cards is that online poker sites cater for all types, whichever your provider is. And you'll even be able to make real-money online poker deposits in Canadian dollars.
With VISA Debit, online poker players avoid those hefty fees usually associated with credit cards. The minimum deposit limits are pretty low too, making it perfect for casual poker players. Trust one of our top CA gaming sites today and put your funds to good use.
With VISA Debit, online poker players avoid those hefty fees usually associated with credit cards. The minimum deposit limits are pretty low too, making it perfect for casual poker players. Trust one of our top CA gaming sites today and put your funds to good use.
Accepted widely at Canuck online poker rooms
Low deposit limits for recreational gamblers
No fees when you send and receive real money
Rank
Poker Site
Benefits
Bonus
Review
Play Now
1

$88 + 100%
up to $888
No deposit required for $88 bonus
Exclusive monthly $1000 freeroll
$10 cash bonus with $30 deposit
Read Review
2

100%
up to $500
$100,000 in monthly freerolls
Safe site with good reputation
Earn up to 50% back in rewards
Read Review
3

100%
up to $600
$600 bonus is good for 3 deposits
Largest poker site in the world
Weekly tournaments worth millions
Read Review
VISA Debit: A Canadian Favourite
When it comes to simple deposit options for online poker, VISA Debit cards are one of the easiest. Hold'em players can move their cash easily direct from their bank accounts.
And because you're relying on your bank's top-quality security, you know your funds are going to be protected. If you have a VISA Debit, online poker shouldn't be funded any other way.
Making a VISA Debit Deposit
Online poker players can move funds directly from their Canadian bank accounts using a VISA Debit card. It's a great option for players who want to keep track of their gambling. Unlike a credit card, you only ever use money that's in your account. That way, you can employ much better bankroll management.
Making a deposit is simple with a VISA Debit. Online poker players just have to visit the on-site Cashier and register their cards. This is usually done at some sites when you first open the account.
To complete a deposit, select the VISA Debit option from the drop-down menu and enter the card number. You'll also need to input the 3-digit security code on the back of the card. Once you hit 'Submit', the funds will appear quickly in your gaming account and you can head to the tables.
Added Security With VISA Debit
Some issuing banks may require an added security password: Verified by VISA. Verified By VISA is the provider's own layer of security and consists of an extra passcode which you get at the same time as your card.
Even without Verified by VISA, using VISA Debit for online poker is reliable and safe. Your transactions are protected by your bank's encryption procedures, and withdrawals are always accurate.
Many top Canadian banks issue VISA Debit cards. If you're a customer at CIBC, RBC, Scotiabank, or TD you can get a VISA Debit card without any problems. In Canada, you can also get a Virtual VISA Debit card from RBC which lets you easily move cash around on the Internet.
Just like a physical card, you are protected by VISA's excellent fraud protection systems. If your card is used unlawfully to deposit cash fraudulently at online poker rooms, VISA's 'Zero Liability' promise means you won't have to pay.
Extra Benefits of Poker Sites Accepting VISA Debit
Simple transactions are just a small benefit of using VISA Debit. Online poker players in Canada can also take advantage of low deposits and fees.
With a VISA Debit, you can make deposits or withdrawals as low as $10. There's no need to wait until you have $100 in your account to cash out as you do with other banking methods.
And while credit card transactions usually incur "cash advance" fees, especially when you convert CA currency, VISA Debit cards carry no fees.
Grab a Great Bonus in C$ Today
Canadian VISA Debit cards have been used for years to buy goods online or travel abroad with. They are now the most popular way to fund poker players' online gambling.
Put your card to good use today and sign up with one of our recommended gaming sites. With a simple deposit you can enjoy a welcome bonus upon opening an account. Once you've worked off some great bonus cash, just use your VISA Debit free to withdraw your winnings.
FAQ
Do Visa Debit allow online gambling use?
Yes, Visa Debit does allow gambling use. In Canada, most debit transactions are handled through the Interac network. Some banks have started to allow PIN based ATM purchases over the Plus network, which is owned by Visa. Visa Debit is available for purchases within Canada, or internationally. Gambling users including poker players will be using Visa Debit for international purchases, since the poker sites that Canadians have access to are all owned by foreign companies. Visa debit makes online gambling financial transactions quick and easy, using the money that is already in your bank account. Try it out today.
What sites accept Visa Debit?
We have reviewed the best sites for using Visa Debit when playing poker online for real cash. We know this industry and have rated each site on a strict rubric of fairness, bonuses, customer service, game selection and security. You can trust that any site that is on our list of the top 5 poker sites in Canada for Visa Debit is going to be safe, secure, have a great selection of poker rooms and lots of opponents to play against, and with excellent graphics as well.
Is it safe to use?
Yes! Visa Debit is one of the safest payment methods available for online poker players. You already know how easy it is to use your Visa Debit for ATM withdrawals or in person transaction. All you have to do is hand your card over, enter your PIN number and the payment goes through seamlessly. The exact same process happens when you go to the cashier page on your favorite poker site. Just enter your card information into the secure form, and you are good to go. Your private info is always kept safe, and even if someone did manage to get a hold of your card number, Visa has the best security measures in the industry in place to keep your money protected.
What fees are involved?
There are no fees involved when you use your Visa Debit to play real money poker online. Unlike other payment methods - ewallets, cash transfers, bank transfers - credit and debit cards never charge a fee when you use them. This is why Visa Debit is so hugely popular for online gamblers. It is fast, cheap, easy and all around one of the best payment methods out there.
How do they compare with similar methods?
Visa Debit is definitely one of the best payment methods when you compare it with other methods such as e-wallets, cash transfers, direct bank transfers, or paper checks. Visa Debit is quick and easy, has no fees, and is just as simple to use as any credit or debit card. It is even better than a credit card though, because it uses funds that are actually in your bank account so you have no bills to pay later. Visa Debit has excellent security measures in place as well, so you can rest assured that your money is 100% safe and your information is secure.
Is it safer and better to use an ewallet?
A lot of people like to use ewallets these days, because they add an extra layer of convenience to online payments. When you have money in your ewallet, you can make payments and bank transfers instantly, without the delay that sometimes comes with debit card payments. But in reality, ewallets tend to take the same amount of time because you first have to fund the account in order to make a payment. Also, ewallets charge fees when you want to withdraw money back into your bank account. Visa Debit never charges a fee and you can count on their extensive security measures to keep your money and your information safe.