eCheck Poker Deposits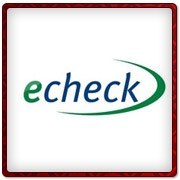 An eCheck is a great way to move cash direct from your bank account into your online poker wallet. There's no need to use a credit card, and the transactions take hours to process. Better still, the poker rooms won't charge fees when you use the service.
At OnlinePoker.ca, our team rates and reviews dozens of sites accepting eChecks in 2023. All of our top-rated websites allow real-money gambling from Canadians. You can use an echeck safely and securely without risk of a declined payment. And with all of our best sites you can even earn a welcome bonus when you open an account.
Use an eCheck and find the best sites online:
Move cash direct from your bank account
Never share card details with the online poker site
Use C$ and earn a top welcome bonus upon sign-up
Rank
Poker Site
Benefits
Bonus
Review
Play Now
1

$88 + 100%
up to $888
No deposit required for $88 bonus
Exclusive monthly $1000 freeroll
$10 cash bonus with $30 deposit
Read Review
2

100%
up to $500
$100,000 in monthly freerolls
Safe site with good reputation
Earn up to 50% back in rewards
Read Review
3

100%
up to $600
$600 bonus is good for 3 deposits
Largest poker site in the world
Weekly tournaments worth millions
Read Review
How echecks Work Online
If you want easy real-money online poker, eCheck banking is a great way to transfer cash. It's a little like a virtual wallet that provides a third party between your bank account and the poker site.
With an echeck, all you need is your bank account and routing number. You never have to take your debit card out of your wallet.
To complete a transaction, simply visit the Cashier and enter your account number and routing number. Money will transfer automatically from your Canadian bank account. Cash appears in minutes, and the poker site won't charge a fee. Better still, with many sites you can deposit in C$ or USD.
Benefits of An eCheck For Online Poker
An eCheck provides the same security as a paper check, but provides a safe transaction online. They've been around a while but have been adopted by Internet gamblers as they negate the need to use a credit card.
Never use a credit or debit card
Only transfer cash you have in your account
No fees from the poker room
eChecks are great for Canucks who don't have a debit card or whose credit card has been declined by the online poker room. You can keep a better track of your funds too as C$ is coming straight from your bank account. Finally, you can avoid the annoying cash advance fees associated with credit cards like VISA and MasterCard.
Downsides of eChecks
For CA players wanting to avoid credit cards, an eCheck is a good alternative. However, there are things to be aware of if you want to use this method for poker online:
No Withdrawals: It's worth noting that withdrawals are not possible when using an echeck. Online poker players can opt for a traditional bank wire or physical check as good alternatives.
eCheck Fees: As a buffer between the bank and poker site, eChecks usually incur a small fee when you move cash. This is particularly true if you are converting C$ to USD or Euros first.
Long Processing Times: While not taking as long as a paper check (around 3-4 weeks), an eCheck can take a few days to process. This should be factored in when using on the net.
Looking For Great Online Poker Sites
Safe payments are essential if you play poker online for real money. All of our recommended sites have good licenses and security so that players' funds are secure. Payments are accurate and audited, while usernames and passwords are encrypted to ward off hackers.
In addition to good security, we look for a great range of games at all stakes. Whether you play for cents or buy-in to $100+ tournaments, we show you where to find the top games.
Earn a Top Welcome Bonus On the Web
When you open an account with Canadian dollars, you can use your cash to earn a great bonus. Play online poker in your first month and you can turn your player points into cold, hard CA dollars.
Every good poker room offers a bonus of some kind, even for small-stakes players. Make your real-cash online poker pay and give your eCheck account a big boost.
FAQ
What is an eCheck?
E-checks are one of the oldest and most reliable forms of online payment that you can use today. Put simply, an e-check is an electronic version of a paper check. It works exactly the same. EChecks take money directly out of your banking account and transfer it to the recipient's bank account. The only difference is that an eCheck is sent over the internet, instead of like a paper check that must be cashed or deposited in person at a banking location or ATM. EChecks combine the ease of use and speed of electronic transfers with the familiar format and security of paper checks. They are super easy to use and you do not have to sign up for any websites to take advantage of this payment method.
How does it work?
E-checks work just like a regular paper check. Just about every major payment outlet you will find on the internet offers eCheck as a payment method. EChecks remain so popular with online payment users because they are cheap, easy and secure when compared with other payment methods. Typically, you can send an eCheck from any modern online banking website. Just log in to your bank's online banking site and you can send eChecks to other accounts right there.
Do they allow gambling use?
Yes! EChecks can be used for anything that you want to purchase or pay for online, including online gambling. Writing an eCheck when gambling online is just like writing a paper check at a land casino, or using your debit card. When you are ready to make a deposit into your online casino bankroll with an eCheck payment, all you need to do is fill out the same information that you would on a paper check when you get to the cashier portion of the site. This includes your bank account number, your bank's routing number, the name of your bank and the amount you want to send. When you hit confirm, your bank sends a digital check to the online casino's bank and once that check clears, your funds will appear and be ready for you to use in your casino account.
How do I start an account?
One of the things that makes eChecks so easy and so appealing to online gamblers in Canada is that you do not have to sign up for any third party sites in order to use them. If you have a bank account, you can send eChecks. Yes, it really is that simple. If you have not signed up for online banking with your checking account yet, it is a very easy process. Just go to your bank's main website and find the link where they offer online banking. It is a simple process to set up an account, and you may need to enter some basic information such as name, address, and bank account number (this can be found on your checkbook) or debit card number. Once your identity has been verified, you can create a user name and password so that you can log in any time and check your balance, send eChecks and more.
Is it safe?
Absolutely! EChecks are completely safe to use when you are using them to fund your online gambling account. Echecks are so safe because they combine the security of two well established and extremely safe payment methods - online bank transfers and paper checks. Bank transfers can seem less secure than other payment methods to some people just because they can take a little while to clear. This is the same as eChecks, but don't worry, this is actually a sign of greater security because the delay means your bank is verifying the account and making sure everything checks out before approving the transaction. Echecks combine this with the familiarity and ease of use of paper checks. They are truly the best of both worlds.
Are my winnings paid back into the same account?
Yes! If you choose to receive an eCheck for your winnings payments, they will automatically be paid back into the same account that you hooked up when you funded your account. If you want to have payments come to a different account, it is easy to reedy the situation. All you need to do is add another bank account to your casino account and choose that one when you cash out. Either way, you can count on your eCheck payment clearing within just a few days. It will not be an instant transfer like e-commerce sites can offer, but you do not have to pay the fees that e-wallets charge so it can end up saving you a lot of money in the long run if you have a little bit of patience when you cash out.
How does it compare to other methods?
Echecks are a really great option for payments and cashing out when you compare them with other payment methods that are available such as credit cards, e-commerce sites and cash transfers. Credit cards are super easy and convenient but they do not always offer the same security as eChecks because they are what scammers most often look for when they get a hold of personal information and data online. Scammers usually are not going to look for bank account information because it is much easier to procure and sell credit card numbers for a profit. E-commerce sites offer some benefits such as instant transfers and automatic currency conversions, but these features come at a hefty price. E-wallets usually charge a pretty significant fee for their services, which you do not have to pay when you use an eCheck. Cash transfers are your best bet if you do not have a bank account, but if you do have a bank account there is really no point in going through all of the trouble to go to a retail location, pay your cash, get a number and then go online to use it. Echecks combine the best of all worlds, they are easy, convenient, cheap and you do not have to sign up for any third party sites to use them.