Easiest Online Poker Sites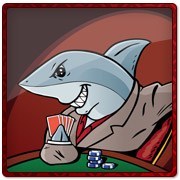 The easiest online poker sites on the web boast bad players and bonuses that cater for all wallets. If you want a fast way to make money, playing easy poker games is the way to do it.
Taking on the fish means you can boost your bankroll in minutes. And finding sites with lots of traffic means that you can multi-table and really increase your C$.
At OnlinePoker.ca we only recommend the easiest Internet poker rooms to get your account off to the best start. You'll even be able to clear a bonus quicker by attacking the poor players.
Play at the easiest poker sites on the net:
Lots of fishy players to win easy cash from
Regular freerolls to boost your bankroll
Generous welcome bonuses that cater for all players
Rank
Poker Site
Benefits
Bonus
Review
Play Now
1

$88 + 100%
up to $888
No deposit required for $88 bonus
Exclusive monthly $1000 freeroll
$10 cash bonus with $30 deposit
Read Review
2

100%
up to $500
$100,000 in monthly freerolls
Safe site with good reputation
Earn up to 50% back in rewards
Read Review
3

100%
up to $600
$600 bonus is good for 3 deposits
Largest poker site in the world
Weekly tournaments worth millions
Read Review
Benefits of the Easiest Poker Sites
The way to make money playing online poker is to target the easiest games.
There's no point jumping in at stakes beyond your comfort level. Quite quickly you can find your bankroll disappearing before your eyes. At the same time, there's no point tackling games you're not comfortable with.
As a rule, the easiest online poker rooms have plenty of bad players, but also bad players occupying the popular games. As a smart poker player, it's your job to hunt them out.
Finding Easy Poker Rooms
Lots of traffic: In general, the more popular a site, the more bad players you'll find. Poor players (fish) tend to flock to popular poker rooms as they appear to be more trustworthy. Unfortunately for them, they're still bad poker players. If you take them on in the easiest games you can make a killing.
Lots of Texas Hold'em action: While popular poker sites attract lots of players, so do the Texas Hold'em games. The easiest way to make cash in online poker is by playing low-stakes Texas Hold'em. No Limit cash games, Sit 'n Gos and tournaments are crammed with bad players. With a basic but solid skill set you can boost your C$ bankroll quite easily.
Poker sites connected to casinos: Many online poker sites are connected to sportsbooks or casinos online. These sometimes attract bad players from the slots or sportsbetting pages to try out poker. This is where you can take advantage of the easiest poker online.
Clearing An Online Poker Bonus
Every site offers a bonus of some kind when you join up. Welcome bonuses reward new customers with free cash when you play enough cash games and tournaments.
Because there is usually a time limit attached to any bonus, it's important to get in a good volume of games. And if you want to multi-table and clear a bonus quickly, playing the easiest games is the way to do it.
Welcome bonuses are just the start, however. The easiest way to earn lots of cash regularly is to sign up for reload bonuses and a VIP scheme. Good loyalty schemes can reward regular players with faster cashouts and attractive match bonuses. If you find generous schemes at sites with poor players, you're in heaven.
Find the Easiest Online Poker With Our Expert Team
Smart CA gamblers are the ones who hunt out the easiest poker online. No online poker player got rich by tackling players above their skill level. By taking on the easiest games you can boost your bankroll and work through a bonus in double-quick time.
At OnlinePoker.ca we have a selection of the easiest Internet poker rooms around. You can make a deposit in C$, cash in the fishiest tournaments, and withdraw in minutes.
We also recommend some of the best online poker bonuses. With a simple sign-up you can deposit your Canadian dollars and start working off bonus cash right away.
FAQ
What makes a site easy?
Easy poker sites are those sites that attract players that are not at a very high skill level. This allows new players and people who are rusty to brush up on their skills without taking super high risks. It is also a prime opportunity for more skilled players to participate in games that are a guaranteed win for them. If you want to start a winning streak, or if you are a beginner looking to learn new skills or a new poker variation, then easy sites are for you. Easy sites also generally have good bonuses to attract new players to the game.
Do these apply to certain games?
Sometimes, yes, certain games are more likely to be easy than others. For example, Texas Hold'em is considered an easy game by a lot of seasoned poker players because it allows all of the players to see a partial view of the other players' hands. Texas Hold'em gives each player two private cards and lets them choose the remaining three from a set of five that is laid out on the table. This is considered a much easier form of the game than traditional poker. Even so, you can find "easy" rooms for just about every poker variation, including the most challenging ones.
Are they recommended for beginner players?
Yes, easy rooms are definitely recommended for beginners. They are a great place to practice your skills in a low risk setting, and they can also increase your confidence as you start to get better at the game and start to win more and more rounds. Once you feel confident, you can start moving up to more challenging poker rooms and larger bets, but in the beginning it is best to stick with easy rooms so that you do not get in over your head.
Are they a good place to learn?
Easy sites are an excellent place to learn, whether you are learning poker for the first time, learning a new version of the game or coming back into it after a long time of not playing. Playing against beginners allows you to build up your skills without having to make outrageous bets that are sometimes required in more challenging poker rooms. Everyone in the room is there for the same purpose, and the competition is less fierce so that you can focus more on learning the game and practicing new strategies.
Do they offer good bonuses?
Yes, easy sites offer very good bonuses. Usually the most popular real money poker rooms are the medium to hard rooms because they offer the best chances of winning large amounts of money. Also, poker can be intimidating to get into if you have never played before, and it is tempting to stay in the free rooms for as long as possible. For these reasons, poker sites like to entice people into the easier game rooms by offering great bonuses. It is definitely worth it to check them out!