Online Poker Games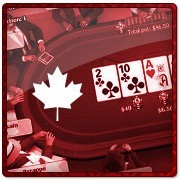 There are many different online poker games and varieties available on the net. While some of the more exotic games may be enticing, new Canadian players are better served by sticking to some of the more common varieties like Texas Hold'em until they are completely comfortable; that way you'll be able to get a good handle on the rules, strategies and nuances of online poker games before building up a bankroll and moving on to other lesser-known variations.
Another reason to stick at one of the poker online games listed here is that these are the games and their varieties you will find at any of the great sites we review and compare on OnlinePoker.ca. Some sites offer every game under the sun, while others only have Texas Hold'em and not much else. We find the best sites around that give you:
The widest range of poker games, catering to every limit.
Top deposit bonuses so you can boost your bankroll.
Large player pools so you won't be waiting for tables to fill.
Slick software and top security.
Texas Hold'em Poker Games Online

All of the online poker sites listed on our pages host Texas Hold'em poker games. No Limit Hold'em – the 'Cadillac of Poker' - is the most popular variety of poker, both online and off and has the biggest chances for Canadian players to win. Typically large prizepools and guarantees make Hold'em tournaments a very alluring style of poker game - online or offline- for beginners and advanced players alike.
Basic Texas Hold'em is played with two hole cards (which only the player can see) and five community cards. Over a series of betting rounds, five cards hit the table, face-up, for everyone to see. Your job is to make the best 5-card hand using any combination of cards (your two cards and three community cards, one of yours and four community cards, or all five community cards if you have to).
Limit Texas Hold'em is great for new players because there are strict betting limits to keep spending in check while you learn the best strategies. No Limit allows any raise at any time. This is very good for experienced players because it can create enormous pots in a single hand. No Limit Texas Hold'em is easily the most exciting poker game online, with fortunes changing on every card, and it's no wonder that the World Series of Poker Main Event is a No Limit Hold'em tournament.
Omaha Online Poker Games
Omaha is a fun and exciting variety of Texas Hold'em.
There's a 3-card flop. There's 1-card a turn. There's a 1-card river. There's a big blind. There's a small blind. There's a dealer button. And every player has hole cards. But here's the difference. In Omaha poker online, you get four hole cards instead of just two, like you would in Texas Hold'em. The other big difference? You need to use exactly two of your hole cards and five community cards. You can't use more. You can't use less.
Omaha is normally played Pot Limit, restricting the amount you can raise the pot at any time, but another interesting twist on Omaha is the Hi-Lo and Hi varieties. In online poker games, Hi means that only the best hand wins the game and gets the jackpot. However, if you pick a Hi-Lo game, both the high hand and the low hand split the pot. This can be a fun and exciting option for new Internet poker players to win a lot of money as they develop, and is a very popular variant to play in cash games.
Rank
Poker Site
Benefits
Bonus
Review
Play Now
1

$88 + 100%
up to $888
No deposit required for $88 bonus
Exclusive monthly $1000 freeroll
$10 cash bonus with $30 deposit
Read Review