Online Poker Games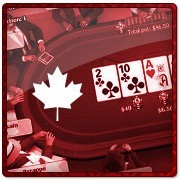 There are many different online poker games and varieties available on the net. While some of the more exotic games may be enticing, new Canadian players are better served by sticking to some of the more common varieties like Texas Hold'em until they are completely comfortable; that way you'll be able to get a good handle on the rules, strategies and nuances of online poker games before building up a bankroll and moving on to other lesser-known variations.
Another reason to stick at one of the poker online games listed here is that these are the games and their varieties you will find at any of the great sites we review and compare on OnlinePoker.ca. Some sites offer every game under the sun, while others only have Texas Hold'em and not much else. We find the best sites around that give you:
The widest range of poker games, catering to every limit.
Top deposit bonuses so you can boost your bankroll.
Large player pools so you won't be waiting for tables to fill.
Slick software and top security.
Texas Hold'em Poker Games Online

All of the online poker sites listed on our pages host Texas Hold'em poker games. No Limit Hold'em – the 'Cadillac of Poker' - is the most popular variety of poker, both online and off and has the biggest chances for Canadian players to win. Typically large prizepools and guarantees make Hold'em tournaments a very alluring style of poker game - online or offline- for beginners and advanced players alike.
Basic Texas Hold'em is played with two hole cards (which only the player can see) and five community cards. Over a series of betting rounds, five cards hit the table, face-up, for everyone to see. Your job is to make the best 5-card hand using any combination of cards (your two cards and three community cards, one of yours and four community cards, or all five community cards if you have to).
Limit Texas Hold'em is great for new players because there are strict betting limits to keep spending in check while you learn the best strategies. No Limit allows any raise at any time. This is very good for experienced players because it can create enormous pots in a single hand. No Limit Texas Hold'em is easily the most exciting poker game online, with fortunes changing on every card, and it's no wonder that the World Series of Poker Main Event is a No Limit Hold'em tournament.
Omaha Online Poker Games
Omaha is a fun and exciting variety of Texas Hold'em.
There's a 3-card flop. There's 1-card a turn. There's a 1-card river. There's a big blind. There's a small blind. There's a dealer button. And every player has hole cards. But here's the difference. In Omaha poker online, you get four hole cards instead of just two, like you would in Texas Hold'em. The other big difference? You need to use exactly two of your hole cards and five community cards. You can't use more. You can't use less.
Omaha is normally played Pot Limit, restricting the amount you can raise the pot at any time, but another interesting twist on Omaha is the Hi-Lo and Hi varieties. In online poker games, Hi means that only the best hand wins the game and gets the jackpot. However, if you pick a Hi-Lo game, both the high hand and the low hand split the pot. This can be a fun and exciting option for new Internet poker players to win a lot of money as they develop, and is a very popular variant to play in cash games.
Rank
Poker Site
Benefits
Bonus
Review
Play Now
1

$88 + 100%
up to $888
No deposit required for $88 bonus
Exclusive monthly $1000 freeroll
$10 cash bonus with $30 deposit
Read Review
2

100%
up to $500
$100,000 in monthly freerolls
Safe site with good reputation
Earn up to 50% back in rewards
Read Review
3

100%
up to $600
$600 bonus is good for 3 deposits
Largest poker site in the world
Weekly tournaments worth millions
Read Review
Seven Card Stud Poker Online Games
One of the true old-school poker games, Seven Card Stud has made a seamless transition to online games.
In Stud poker games, there aren't any community cards. If you're used to playing any of the poker games listed above at Canadian Internet poker sites, you won't see a flop, turn, or river in Stud. Instead, you'll be dealt your cards in groups. Some are face up and some are face down. Here's how it works.
First, every player must ante up before a game. The ante requirement varies from poker site to poker site, but for the most part it's a small fraction of whatever the listed bets are. For example, in a $1/$2 game, the ante might be 15 cents.
Every player will receive their two cards, face down. Obviously you can see your hole cards, but the other players at the table can't. After the two face-down cards are dealt, a third card known as Third Street is dealt to every player at the table. This card is dealt face-up for everyone to see. Whoever holds the lowest card is the first to bet. If that's you, you're free to bet whatever you like, but it must be at least the minimum of the table stakes. So in our $1/$2 example, you'll need to bet $1.
After betting has concluded, a fourth card (yup, called Fourth Street) is dealt, face up. Then, the Canadian poker site player with the highest ranked exposed cards is asked to bet. Next, everyone gets a 5th card (5th Street, obviously), face-up, and another round of betting gets underway. At most Canada Internet poker sites, this round of betting requires the table stakes max to be bet. So in that $1/$2 example, players must bet at least $2. This is followed by another face-up card (6th street), another round of betting, and the dealing of the River Card, which is dealt face-down. After another round of betting, the player remaining with the best 5-card hand wins.
The difference between Stud and the more popular poker games around today like Hold'em and Omaha is that none of the cards are community cards. Seven Card Stud also offers Hi and Hi-Lo varieties for extra fun or larger jackpots, and also an interesting version called Razz where only the lowest possible hand wins the entire jackpot! Particularly good fun played as a cash game, the best poker rooms on the Internet will offer a wide range of Stud games, both cash games and tournaments. We test them all.
Razz
It's got one of poker's most interesting names and it might sound a bit confusing at first, but it's generally pretty easy to understand. Razz is a lot like Stud with one major difference. Instead of trying to make the best hand, you're trying to make the lowest Ace to 5 poker hand. To help you win, straight and flushes don't count as a bad hand, so technically 5,4,3,2,A is a great hand.
Here's one other big difference. In Stud, the player with the lowest exposed card or hand starts the action. But in Razz, the player with the highest exposed hand or card is chosen.
We Find the Best Online Poker Games!
As you can see, there are many ways even beginners can not only have fun, but also win a lot of money playing online poker games. Read our reviews, study our rankings, and check out our comparisons: we pick out the best sites that offer the widest range of games available for players in Canada. We've taken all the hard work of finding the best and most secure sites for you, so all you have to do is play and have fun.
FAQ
What poker games are more popular online?
There are a ton of poker games available to play online, including classic poker, Texas Hold'em, Omaha High, Omaha 8 or Better, Seven card Stud and Stud 8 or Better. Out of all of these, Texas Hold'em is by far the most popular. This poker variation took the world by storm when it was first introduced to online gambling. Since then it has become a worldwide phenomenon and is even seen on sports channels such as ESPN for the largest tournaments. The reason why it is is popular is that it is easy to follow as well as easy to learn play, but it still retains a high level of challenges and skill requirements so it never gets boring for even the most practiced players.
Which one has the best odds?
It is well known in the casino world that table games such as poker have much better odds for players than games such as slots. They may seem intimidating at first since you have to learn how to play rather than just hit a button, but in the long run your chances of winning are much higher. The best odds are the games that you know the best and have good strategies for, so make sure to practice a lot before you start playing in the high roller rooms. That way, when you get to a place where you feel comfortable making high bets, you will be more likely to win.
How can I find the biggest jackpots?
The best way to find the biggest jackpots is to trust the experts. We have taken the time to rate a number of poker sites and casinos based on jackpot amounts, how often they pay out, and other bonus features as well. We have scoured the internet high and low to find the very best jackpots for you, so that you don't have to go looking for them. Take a look at our list of the best poker sites for Canadian players so that you can start winning today.
Can I play multiple games at once?
Yes, if you want to you can play multiple games at once. You can either choose to play multiple games in different windows at the same casino or poker site, or you can simultaneously play at multiple sites. This gives you the advantage of now having to wait a long time between hands, because you always have another game to go to. This can significantly increase your chances of winning because you can place multiple bets in short succession. Just make sure that your skill level is high enough for you to be able to play multiple games at once, or you might not be able to handle it and end up ruining more than one game!
Are they rigged?
No, they are not rigged if you go with trusted sites. Yes, there are some bogus poker sites out there but the ones that we have chosen are reviewed and rated for the highest level of trustworthiness and customer support. If you take a look at our list of the best Canadian poker rooms, you will see that all of their features are laid out in plain sight and they have undergone third party certification to ensure that all of their games are 100% safe, never rigged, and fair for players. This means that cards are generated randomly with no house edge, and there are no other tricks up their sleeve to scam people out of their winnings.
Where should beginners start?
A good place for beginners to start is in free poker rooms. You can play for free at just about any poker site, they should usually have special rooms set aside for people who want to try out the site without betting real cash. After you play a few rounds for free, move on up to the easy sites where you can practice your poker skills for minimum bet amounts and not a lot of pressure. These rooms will be filled with beginners just like you, so there is no need to be intimidated. You ca stay at the easy sites as long as you want – however long it takes you to build your skills and your confidence. Once you feel confident, you can keep moving up into the poker rooms that are considered medium or high skill level.