UseMyFunds Online Poker Banking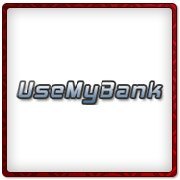 UseMyFunds (formerly UseMyBank) is a top way for Canuck gamblers to fund their online poker. It works like a bank wire, with one small difference: you always keep your bank details off the poker site.
With a UseMyFunds online poker deposit, all you need is a simple username and password. When you make a poker transaction you just use this one login to move real money across. It's that simple.
At OnlinePoker.ca, our team hand-selects the best Internet online poker websites to save you time. You'll even find a great welcome bonus when you sign up.
Hunt out top CA online poker sites accepting UseMyFunds today:
Move cash easily from your Canadian bank account
Keep your valuable bank details safe
Access the best poker promotions on the Internet
Rank
Poker Site
Benefits
Bonus
Review
Play Now
1

$88 + 100%
up to $888
No deposit required for $88 bonus
Exclusive monthly $1000 freeroll
$10 cash bonus with $30 deposit
Read Review
2

100%
up to $500
$100,000 in monthly freerolls
Safe site with good reputation
Earn up to 50% back in rewards
Read Review
3

100%
up to $600
$600 bonus is good for 3 deposits
Largest poker site in the world
Weekly tournaments worth millions
Read Review
How UseMyFunds Internet Poker Deposits Work
If you're worried about sharing credit card details with a poker room, or you just want to use cash from your bank account, UseMyFunds is a top alternative.
UseMyFunds works a little like a bank transfer. Deposits go straight from your Canadian bank account to your poker account in minutes. You can also cash out using the service.
To get started, visit the UseMyFunds website and register an account. You'll have to come up with a username and password to get the ball rolling.
Once you're ready to deposit, visit your poker site and go to the Cashier. Enter the amount you want to deposit in C$, plus your UseMyFunds username. You may also need your bank's SWIFT code.
Cashing Out With UseMyFunds
You can also withdraw winnings using UseMyFunds. Online poker players just have to return to the Cashier and select the option from the menu. Enter the amount you want to cash out and hit 'Submit'.
Like a Bank Wire or Fast Bank Transfer, you'll have to wait at least three days for the process to be completed.
Alternatives to UseMyFunds
The beauty of sites accepting UseMyFunds is that when you play poker online you never have to share card details. It's great for players in Canada who are worried about declined payments or having sensitive information stolen.
If your favourite poker rooms don't accept UseMyFunds, there are solid alternatives. Almost all Canuck poker websites will allow a straight bank transfer. This does, however, involve you entering all your sensitive bank details in the Cashier boxes.
Bank Wire/Fast Transfer: A bank wire lets you move cash directly from your Canadian account within a few days. You'll have to enter your SWIFT code and AC number when you make a deposit. Also, you may incur fees from your bank when you complete the transaction. Currency conversion fees will also apply if you're playing at an overseas online poker site.
e-Wallets: e-Wallets, meanwhile, allow you to load up an anonymous virtual wallet with C$ from a credit or debit card. You can also deposit funds using your bank account. With one easy wallet you can then move real money into your poker account.
Prepaid cards: Virtual or physical prepaid VISA and MasterCard vouchers are great if you want to avoid a credit card. They work by loading up a single card with cash direct from your bank account. When you make a gambling deposit, just enter the card or voucher number in the Cashier. The fees can be pretty low too.
Hunting Out the Best Bonuses
For an easy way to pay for your online poker, UseMyFunds is safe and quick. Once you have C$ in your account you can hit the real-money cash games or big-money tournaments in minutes.
By signing up with one of our top-rated poker sites, you can access the best bonuses on the net. All of our Internet cardrooms have lots of action, games running 24/7, and plenty of fish so you can come out a bigger winner.
FAQ
Who are UseMyBank?
UseMyBank is a site that allows Canadian poker players to use their bank accounts when making online transfers to casino accounts, without worrying about penalties, bans or blocks that can sometimes happen when doing direct bank transfers. Online poker sites that allow UseMyBank as a payment option allow you to make direct transfers from your bank, with an added level of security and convenience. This is something that most payment sites cannot offer, because there is almost always an extra step required when you fund your e-wallet. Since UseMyBank is a direct transfer, there is no extra step needed.
How does it work?
Many online gamblers and poker players in Canada like to be able to transfer money directly out of their bank account to fund their bets, instead of having to manage a third party account or use their credit card. Direct money transfers are an option, but they can often get delayed or even denied due to banks security measures which limit international transactions as well as payment and withdrawal amounts. UseMyBank gives Canadian players a new option, which allows you to transfer money directly from your bank account, without worrying about putting holds on your account or paying outrageous fees. UseMyBank connects directly to your bank account and handles the transfer for you, so your bank will never be alerted and create delays.
Do they allow gambling use?
Yes! UseMyBank not only allows gambling use, they encourage it by making their service very attractive to online gamblers and poker players. UseMyBank allows anyone with a bank account to gamble online, whether or not they have a credit or debit card. Credit card companies often block online gambling payments, usually because they are international transactions. This triggers an automatic response because unusual transactions are seen as a security threat. With UseMyBank, the payments do not show up as international transfers, so security features will not be triggered.
How do I start an account?
It is very easy to start an account with UseMyBank. Simply go to their home page and you will see a link in the upper right hand side of the page that says "Sign Up!" Just click on this link and you will then fill out a form with your personal information – name email address, password, and any other information they may need. You must be 18 years old to create a new account. Once you have an account, you are free to set up your bank account connection and then use your account to make payments online. When you sign up for a new poker site, make sure that UseMyBank is one of their payment options. Then select the UseMyBank icon when it comes time to make a deposit or withdraw your winnings. It's that easy!
Is it safe?
UseMyBank is very safe! Using e-commerce sites is becoming more and more popular in Canada for online gambling, because credit card companies and banks are not always friendly or convenient for online gambling use. Players often run into problems with holds put on their account or limits on how much they can transfer in and out of their accounts at one time. Sites like UseMyBank make it easy by acting as a third party between banks and casino sites. This is an added bonus for users because it means even more security – your bank account and credit card numbers are not shared with the casino site, so they will never be vulnerable to hackers or anyone else who would steal that information.
Are my winnings paid back into the same account?
When you cash out after winning a hand of poker, select UseMyBank and your winnings will automatically transfer back into the account you signed up with. Unlike other e-commerce sites, there is no extra step required and you do not have to make two transfers – one into your e-wallet and another into your bank account. The money goes directly into your bank account just as a regular bank transfer would. The best part is that it happens instantly. You do not have to wait for the bank to go through extensive security procedures before seeing your winnings deposited.
How does it compare to other methods?
For Canadian gamblers ad poker players, UseMyBank is one of the best payment options available. UseMyBank has been a very popular option with gamblers since they came on the scene. They offer the same fast transfers and no limit transactions as e-wallets, but without the hassle of having to transfer money two times in order to make a payment. They have the same excellent security features as other e-commerce sites, with the added protection of your bank's security features on top. UseMyBank is definitely recommended for Canadian players especially, because they do not place limits on international transactions. This is important in Canada, because all online gambling payments are going to be to internationally owned companies.