iPad Online Poker Apps 2023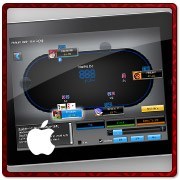 The Apple iPad is fast becoming the go-to piece of kit for discerning online poker players on mobile. Canadians can enjoy real-money cash games or tourneys in the palms of their hands.
Mobile online poker games work slightly differently to traditional online software. Bets and raises are done by swiping special bet sliders on the touch-screen. And with the latest iPad offering unrivalled power and graphics, CA players can enjoy the best virtual games in town.
If you're looking for great iPad poker online, you're in the right place. At OnlinePoker.ca we only recommend the best sites that work on your Apple tablet. Read our reviews now and download a top app today.
Grab a great mobile online poker bonus with your iPad:
Top games to play on your Apple iPad Air
Software dedicated for tablets
Enjoy great promotions and big-money tournaments each week
Ipad users often first turn to for its nifty features like its free $88 bonus. However, other casino seekers find themselves attracted to other features of our recommended sites.
Rank
Poker Site
Benefits
Bonus
Review
Play Now
1

$88 + 100%
up to $888
No deposit required for $88 bonus
Exclusive monthly $1000 freeroll
$10 cash bonus with $30 deposit
Read Review
2

100%
up to $500
$100,000 in monthly freerolls
Safe site with good reputation
Earn up to 50% back in rewards
Read Review
3

100%
up to $600
$600 bonus is good for 3 deposits
Largest poker site in the world
Weekly tournaments worth millions
Read Review
How iPad Poker Online Works
As a mobile gambling Canuck, you want to find the best poker sites that work on your iPad. Apple users can enjoy some of the best download apps and instant-play games around.
If you've played online poker, you'll recognise the mobile tables. You'll find the same lobby and players as an online client, but everything has been redesigned to fit your tablet's screen.
In addition, the games themselves play a little differently. Only the most valuable information remains: the table, cards, avatars, and betting buttons. Raising, folding and betting actions are done with a touch slider or buttons on the screen. To save space you might even have 'Bet Min' or 'Bet Max' buttons.
The lobby and Cashier can also be accessed via a drop-down menu on the screen. With some sites, you might have a 'Quick Seat' option which gets you playing in seconds.
Apps Versus Instant-Play
With an iPad, online poker players generally have two options available: a dedicated download ('native') app or a no-download option.
Some sites have download apps available in the App Store. They are free to download and take minutes to install. Alternatively, you can download a native app directly from the mobile poker homepage.
If a native app isn't available, you can enjoy instant-play games on your iPad. Instant-play online poker games load up in windows via the player's Safari browser. You might not have the same level of game experience as a native app player, but it means you're not downloading hefty apps that take up memory space on your tablet.
These days, most no-download games work in HTML5 or Java, making them ideal for the non-Flash friendly Apple iPad.
iPad Poker Connections and Security
If you're on the move playing mobile online poker, you need to have a solid Internet connection. You can purchase SIM cards which allow data usage and connection to a 3G or 4G network. However, most of the time, you'll be relying on a WiFi connection.
You can download free 'WiFi Finders' from the App Store or iTunes onto your iPad. These are available in Canada and allow your iPad to hunt out good, FREE, WiFi spots wherever you are playing.
Luckily, the iPad has a much longer battery life than the iPhone or even other tablets, so you can play for longer without your hand going dead. It's perfect for playing deep-stack tournaments where you need to be online as long as possible. However, if you do get disconnected, you will simply be set to 'Sitting Out' at the online table. Once your connection comes back, you'll have a chance to rejoin the action.
Online poker on iPad is secure too. Some sites won't allow you to save passwords to your device, making it harder for hackers or thieves to access your account. It's good to know that poker sites have your best interests at heart.
Ensuring the Best Online Poker Experience
If you have an iPad 2 or better, or an iPad Mini or Air, you should be able to enjoy real-cash poker online wherever you are. You should also have iOS 7 or better to power most of the leading poker site clients.
Once you're up and running, you can enjoy the best iPad online poker on the net. Choose from cash games and tournaments, or play in the same big-money festivals as desktop players. Multi-tabling can be tricky with the smaller 10" touch-screen, but for a convenient gambling experience it's hard to beat.
Get a Top Bonus With Your iPad
At OnlinePoker.ca, all of our recommended gaming websites offer the best real-money cash games and tournaments. You can deposit with a wide range of banking options just by tapping the Cashier button.
But when you first sign up, you'll be able to enjoy a top welcome bonus. A welcome bonus matches your initial C$ deposit if you play enough raked games in your first month on the site. Mobile bonuses are great for real-cash poker players wanting to boost their online bankroll. Give one a try today.
FAQ
Is the iPad good for online poker?
Ipads are great for online poker! Since smart phones came on the market years ago, mobile users have been active gamblers and poker sites have definitely responded to this demand. Ipads and other tablets are able to access the same apps and games that iPhone users play, so there are a ton to choose from. Ipad is superior to smart phones when it comes to online poker because the screen is so much larger. The touch screens on iPads are comparable to a normal laptop screen, which means that the graphics can be even more spectacular than on a phone. Also, iPads tend to have more memory space than phones do, so they load faster and can hold more apps for a greater selection of games. The only down side is that you have to have wifi access, you cannot just use your 4G like on a cell phone.
What models are compatible?
All iPad models are compatible with online gambling, including poker, web based sites as well as apps. Ipads have not been around for too many years, so usually even the older models will be able to handle the graphics and features of a poker app without a lot of lag time. You can test this out by going to your favorite poker site's mobile web page, or downloading their app, and see how it loads. If you find that your screen is freezing up or you are not able to keep up with the pace of the game, you may need to get a newer device. Also make sure it is not just your internet connection that is slowing you down.
What should I look for in a good iPad site?
Good iPad sites should have all of the same features that you would look for when you are playing on a desktop computer or laptop. First of all, make sure the site or app you choose has excellent security measures in place. You do not want your personal information leaking out to third party users, who could use it against you or steal your money. Security is of the utmost importance when it comes to online gambling. You also want to make sure that the site has good graphics and is touch screen compatible. Finally, they should have a good selection of games and different versions of poker. This means that if you get bored with one game, you can try out a new one without having to search out a whole new site to play at.
Should I use an app?
Usually on an iPad, apps are an excellent choice. You can also use the mobile browser to access any poker site that you want. One strategy that people like to use is to use the mobile browser to play a bunch of free games at different poker sites in order to learn who has the best graphics, bonuses, features, etc. and then download the app for their favorite site or a few sites. This lets you know for sure that the apps you chose are the best ones for your preferences, and you do not have to waste a lot of time downloading apps that you will later delete. Apps are great to use because they are specially formatted to a mobile touch screen device, and they tend to load a lot faster than using the mobile browser.
Where can I find good poker apps?
The best poker apps are always going to be available through the Apple app store. The problem lies in sorting through the hundreds of apps out there in order to find the best ones. The best apps will be highly rated, have good bonus features and graphics, and will have a strong customer base. You can find these by looking at the highly rated apps in the app store, but even then there will be so many to choose from. It can get overwhelming pretty quickly to search this way. For that reason, we wanted to help narrow down the search by creating a list of the best poker apps on the web for iPad users. We rated each app on a strict rubric and listed them out in an easy to use format in order to take the guess work out for you. Check out our list, it will not disappoint!
What are the best apps or games?
If you want to find the very best apps or games for playing real money poker on your iPad, check out our list of the top poker apps for iPad users. The best games are going to have great features such as bonuses, good game selection, great security and customer service, and stand out graphics that are designed especially for iPads. We looked at all of the apps in the Apple app store and graded each one according to these qualities, and have included only the top ranking apps in our list.
Is it rigged?
No, it is not rigged. You won't find any rigged sites in our list of the best poker apps, because we have checked each one for fairness and made sure they are 100% safe for users like you. Usually if a site is rigged they do not want to call too much attention to themselves. They want to attract a fair number of customers, just enough to make a profit before they close the site down. If they attract too much attention, they will get shut down that much faster. For that reason, scammers and rigged sites usually stick to web based poker and do not spend the time and energy necessary to create mobile apps.
Can I try for free?
Absolutely! It is really easy to try out poker sites for free, and it is highly advisable to do so. By trying sites out for free, you can find out if they have the game variations you want to play, if they have good graphics, how fast their load time is, and what kind of a crowd they attract. All you need to do is go to the flash based website and you can usually find a good selection of games to play for free. These games may not have as much variety as those available on the real money app or site, but they are enough to get your feet wet and start building your skills!