Top Mobile Poker For Canadians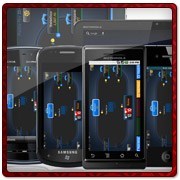 Mobile poker is revolutionising the way Canadians gamble. Online poker mobile sites customised for smartphones and tablets make playing Texas Hold'em easier than ever.
All you need is a phone or cheap tablet to power great real-money cash games and tournaments. At any time, wherever you live, you can load up a table and win real C$.
Real-money mobile online poker games are now available. You can download special apps or play instantly via a web browser, and compete in the same big-money tournaments as online gamblers. Just sign up and get a great bonus today.
Enjoy the best mobile poker online today:
Play games on iOS, Android or Blackberry devices
Special apps customised for your smartphone or tablet
Enjoy the same prizepools and bonuses as online players
gets stunning reviews in Canada and beyond, especially because no deposit is required for its $88 bonus, but you may browse our recommended sites for more great mobile apps.
Rank
Poker Site
Benefits
Bonus
Review
Play Now
1

$88 + 100%
up to $888
No deposit required for $88 bonus
Exclusive monthly $1000 freeroll
$10 cash bonus with $30 deposit
Read Review
2

100%
up to $500
$100,000 in monthly freerolls
Safe site with good reputation
Earn up to 50% back in rewards
Read Review
3

100%
up to $600
$600 bonus is good for 3 deposits
Largest poker site in the world
Weekly tournaments worth millions
Read Review
How Mobile Online Poker Works
Canadian gambling is enjoying a boom right now. From the biggest Internet casino sites to online poker rooms offering games to suit all wallets, it's possible to win loonies every day of the week.
And with mobile technology improving, you can now enjoy the best big-money tournaments and cash games on your smartphone or tablet. Load up a micro-stakes No Limit Hold'em table or a guaranteed multi-table tournament anywhere you are.
Mobile poker works by customising online tables to fit your touch-screen. Bets and raises are made by swiping a bet slider, while the lobby and cashier are accessible by tapping drop-down menus. You'll take on the same opponents as the online client, and you can use one simple login for both PC and mobile.
You may lose some functionality, like on-screen chat boxes. Multi-tabling will also be harder due to the smaller touch-screen.
Playing On Different Devices
While many operating systems have dedicated poker apps for download, many don't. It's important to know where you stand before you start playing. Some devices will require instant-play via the web browser. However, these games are perfectly adequate most of the time.
No-Download Vs. Download Apps
To play online poker, mobile users have two options: download, or native, apps and instant-play software.
Download apps are installed direct from the poker website homepage. These save on the smartphone or tablet. When you want to play, load up the app and connect to the web. Apps are generally available for Android and iOS devices only, while the App Store and Google Play Store sometimes have apps for download.
Alternatively, you can play no-download games. These "instant-play" games work by installing games via your web browser. You may miss out on some functions of a more solid 'download' app but they're great for players on non-iOS and Android devices.
Things to Remember For Mobile Poker
Mobile poker is great for gambling on the go. But there are some concerns you should not when playing.
Battery Usage: It's no secret that mobile phone batteries suck most of the time. Even running Facebook or social media can see you recharging your battery at the end of every day. Add in a mobile poker site and your battery life can disappear quicker than your bankroll. When you play poker, consider disabling everything else to preserve battery life.
Making Phone Calls: Mobile phones are great for gambling, but don't forget that they are also used to make phone calls. If someone calls your phone you may lose connection with your poker game. Some sites will simply turn your status to 'Sit Out' and you could lose a pot. If you're playing poker on a mobile, remember to block calls before you start.
Data Plans: If you're using a good Wi-Fi connection, you should be able to enjoy free web access, and free poker. However, if you're on a 3G or 4G network you'll be sapping data pretty quickly. Always check your data plan to see how much your mobile can handle. If you only have 1Gb per month, you may go over if you play lots of online poker.
Mind the Audio: Some poker sites can experience glitch graphics and delays in the action. Sometimes, your audio player is to blame. If this happens, disable the tablet or phone's audio player and it can improve the experience.
Operating Systems: To download today's apps, you might have to upgrade your OS. With iOS it's 6.0 and above, while Android 4.3 or 4.4 are essential to run most games.
Browsers: Similarly, no-download poker players should ensure their phone can handle the latest browser versions. For iOS, make sure your Safari is the latest possible version. Android players should have the best Google Chrome or Firefox they can download.
Good Internet Connections: There's nothing worse than having an MTT go down mid-hand. If you're playing on the move, make sure your network is solid or the Wi-Fi connection is safe and secure.
Getting the Best Bonuses In Mobile Poker
Mobile online poker is the latest innovation in gambling. Playing on tablets and smartphones is easier than ever. All you need to do is log in to your favourite sites via a browser, or download a native app. On your smartphone you can hit big-money MTTs or crush a few cash games during your lunch break.
At OnlinePoker.ca we only have the best mobile poker websites. With our picks you'll be up and running in minutes. Crush the high-stakes cash games or enjoy a freeroll to get a feel for mobile gaming.
And when you sign up for an account, you can enjoy a top welcome bonus. Bonuses work by matching your initial deposit in return for playing real-money games. The more points, the more bonus cash you'll earn. Get out your CA wallet today and see how real-cash mobile poker can push your bankroll to new heights.
FAQ
Can I play real money poker on a mobile?
Yes, you can play real money poker on a mobile! Mobile devices are the fastest growing market in online gambling today, and online poker is no exception. Almost everyone has a mobile device today, whether it is a smart phone or a tablet, and they are just as eager to play casino games as they were when online casinos first came out in the 90s. The only difference is that today you can take the casino with you anywhere with your mobile! You can either play through your mobile browser or you can download one of the hundreds of real money poker apps out there.
How can I start?
It is so easy to get started playing real money poker on your mobile. All you need to do is pick out a site and start playing! In order to find the best mobile poker site for your tastes, check out our list of the top rated real money poker sites. These can be accessed from any device, whether it is a smartphone like an iPhone or Android, a Blackberry, or a tablet like an iPad. All of these devices can access mobile sites but they may have different apps available to them. Once you find a site you like, go ahead and create an account using your real name and personal info (do not use fake info or you won't be able to cash out!). Then, select your payment method and fund your casino account and you are ready to start playing for real cash!
How much can I win on a mobile?
The possibilities really are limitless when you play real money poker on a mobile. You have just as much potential to win huge sums of money as you do on a computer or full download casino package. It all depends on your skill level and how much you are willing to bet. Keep in mind that the more you bet, the more you win! You can also build up your skills by playing free game versions before moving up to the real money poker rooms.
What games are available to play?
You can find every single kind of online poker when you play on a mobile device. Whether you want to play classic poker, Texas Hold Em or any other version of the game, there are tons of sites out there that cater to every preference. You may even find sites that have every single type of poker right there in one single app! It all depends on your personal preference. You can either search for apps by searching for your favorite type of poker, or you can look for the sites with the best game selection and go from there.
Should I use an app or site?
Whether you use an app or site really depends on your personal preference and your priorities. Are you looking to play fast games or do you prefer to take your time? Do you want to try out a bunch of different poker rooms or are you content to pick a favorite and stick with it? Also think about whether you have the space on your mobile to download apps. If you download an app it will take up valuable memory on your mobile, but if you play at a mobile site you might find that it loads much slower than an app. Fast games tend to happen more often on apps and can end up winning you a lot of cash if you have the skills to keep up. If you want to try out a lot of different sites, you should do it on the mobile sites so that you do not have to wait on a bunch of downloads that you might even end up deleting later. After you try them out, download the apps for your favorites only.
How does it compare with other platforms?
Playing real money poker on a mobile compares very favorably with other platforms. When you look at mobile vs playing online at home, it is clear by mobile users are the fastest growing market for online gambling. Mobile users get to take the casino with them wherever they want. You are not attached to a computer or even a wifi network. You can use 3G or 4G connection to play poker anywhere that has cell phone service. Mobile phones also attract the best developers, who are working hard to make sure that their apps look smooth and crisp on your device.
Is it safe?
Yes! It is completely safe. Mobile developers know all of the potential weaknesses of the platform and take these into account when designing apps for real money poker. Even mobile sites have extra security measures in place to make sure your information stays secure at all times. If you are worried about a site or app being rigged, make sure to check customer reviews. Or, if you want to be absolutely positive that you are playing on a safe app or site, just check out our list of the top rated mobile poker rooms. These sites have been vetted and rated for their fairness as well as their security.