Texas Hold'em Online Poker Sites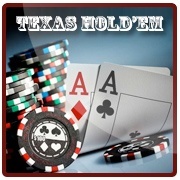 Texas Hold'em is easily the most popular form of online poker in 2023. It's simple to pick up, the action can be fast and furious, and it can be played in cash games, Sit 'n Gos, or tournaments. It's no wonder millions of Canadians are sitting down at Internet poker tables every day.
With Texas Hold'em being poker's most popular variant, it's no surprise that every site offering online poker provides Hold'em tables to suit all stakes. Whether you're into small-stakes cash games or big-money tournaments, there's a game for you.
At OnlinePoker.ca, we only recommend the very best real-money Texas Hold'em rooms for Canadians on the web.
Find a great site for Texas Hold'em games today:
Lots of stakes and variants to suit all budgets
The biggest player pools so you'll never have to wait for a game
Big bonuses for new players when they sign up
Rank
Poker Site
Benefits
Bonus
Review
Play Now
1

$88 + 100%
up to $888
No deposit required for $88 bonus
Exclusive monthly $1000 freeroll
$10 cash bonus with $30 deposit
Read Review
2

100%
up to $600
$600 bonus is good for 3 deposits
Largest poker site in the world
Weekly tournaments worth millions
Read Review
3

100%
up to $500
$100,000 in monthly freerolls
Safe site with good reputation
Earn up to 50% back in rewards
Read Review
The Popularity of Texas Hold'em
Texas Hold'em is still the biggest online poker variation in the world. Hold'em tables are packed every night online, and the World Series of Poker Main Event is still held as a Texas Hold'em tournament.
It's no surprise that Canadians love their Hold'em: the rules are simple to pick up for beginners, and the No Limit variety offers lots of fast action. At the biggest online poker sites in Canada, you'll find dozens of games running 24/7. The hardest job you'll have is picking out one of the many games to play.
How to Play Texas Hold'em
Texas Hold'em is a 'community-board' game where each player is dealt two cards face down at the start of the hand. After several rounds of betting, 'community' cards are dealt face up on the table. These are shared by all players in the hand. The aim of the game is to form the best five-card poker hand with any two of their seven cards.
The hand begins with enforced bets called 'blinds', which are placed by the two players to the left of the dealer. As a tournament or Sit 'n Go progresses, the blinds increase regularly to move the action along.
After each bet, players have the option to 'fold' (discard their hand), 'call' (match the previous bet), or 'raise' (increase the bet at least double the previous bet size). Where Hold'em is so exciting is in the No Limit format where there is no restriction on raise sizes. Even if a player doesn't have enough cash to call a raise, they can't be priced out of a hand.
The Blinds
The dealer designates the player that is sat clockwise to their left as the small blind and the player that is left to the small blind as the big blind. The reason for the blinds is to trigger betting. The blinds will move clockwise by one space on every new hand.
Pocket Cards
Players are all dealt one card each first before being dealt a second card each. These cards are placed face down and are called the Pocket Cards. Once each player has received both cards, players can look at the cards but must keep them out of view of their opponents.
First Betting Round
The first round of betting then takes place with players deciding to place a bet or fold based on what Pocket Cards they have been dealt. The minimum bet must match or be greater than the value of the big blind bet. If a larger bet is placed then all bets that follow must equal that new bet value.
The Flop
Once all bets have been placed, the dealer then deals the Flop Cards. These are three cards that are placed face up in the middle of the table. Another name for these cards are community cards. Every player can use these cards combined with their Pocket Cards to make a potential winning five card hand.
Second Betting Round
As with the first round, the dealer goes around the table asking players if they wish to bet, hold, fold, or raise a previous bet. The decisions of the players will be based on what cards have been drawn as the Flop Cards and the Pocket Cards.
The Turn
Once every player has made their decision regarding betting the dealer will draw the Turn Card. This is the fourth community card. This card, as with the Flop Cards, can be used by every player at the table to help make a five card hand.
Third Betting Round
Another round of betting then takes place with players making their decisions based on which hands they can potentially make using the cards in their hand and on the table plus with the possibility of which card might be drawn as the final community card.
The River
This is the last community card and is drawn after the third round of betting has been completed. This card will complete the dealing process.
Fourth Betting Round
Players will then undergo one last round of betting after the River has been drawn. This is the round that will decide who wins the hand. The player with the best five card hand from the community cards and Pocket Cards will be confirmed as the winner.
Finding the Right Poker Online
Whatever format of Texas Hold'em you're interested in, there's a top real-money online poker site for you. Finding lots of games is just the first task. You also need to find rooms with lots of fish so you can boost your bankroll. It's also good to look at the security of site, whether it offers C$ deposits, and the speed of the cash-outs.
At OnlinePoker.ca we only recommend the best websites for online poker. Texas Hold'em players should be able to play safe in the knowledge that the sites are properly licensed. The software should also be independently audited for total fairness.
Pick Up a Top Welcome Bonus Today
What's great about playing poker online is the real-money bonuses you can earn. As a Canadian Hold'em player you can claim hundreds of bucks in free cash, just for playing cash games and tourneys.
The more you play, the more points you'll earn. And the more points you earn, the easier it will be to have your first deposit matched by the site.
Luckily, you don't need to hunt very long for some good online poker Texas Hold'em rooms. At OnlinePoker.ca we have a list of the very best. Just sign up today and start gambling on the online poker tables.
FAQ
Where can I play Texas Hold'em online?
Texas Hold'em lovers are in luck - this is one of the most popular forms of poker in online gambling, and you can find it just about everywhere. Most poker sites will have at least one room dedicated to this version of the game, with bigger poker sites having multiple rooms and sometimes even multiple versions of this popular game. Check out our list of the best poker sites to play Texas Hold'em today to find the sites with the most rooms, the best graphics and the most entertaining game play experience around.
How popular is it?
Texas Hold'em is hugely popular. In Texas holden, you hold two cards and pick from five community cards that are dealt on the table in order to make your hand. This gives you freedom to choose which cards you like and discard the rest, which is not an option in traditional poker. This game makes poker easier to the layman and has become the most popular version of the game worldwide, including here in Canada.
Does it offer the biggest winnings?
Texas Hold'em does offer big winnings. In Texas Hold'em you have the standard betting options available to you - bet/call, raise or fold. The advantage is in the fact that you get to choose your hand from the five cards laid out on the table. You always get paid out for the highest possible hand. This gives the player a distinct advantage over classic poker, where you only get dealt one possibility for each hand and you have to stick with that. Of course, how much you win always depends on how much you bet, and Texas Hold'em is no exception! The more you bet, the more you win!
How is it different to live play?
Live play poker is when you are playing against a live dealer, just like in a land casino. You are connected to the dealer, along with the other players, via a live video feed and you can watch as he lays the cards out on the table. Texas Hold'em is available at some casinos as a live dealer game, or you can choose to play with the computer as the dealer. The difference is how the cards are selected. In live play, the dealer shuffles the deck and selects cards by hand, just like you would in person. When you play against the computer, a random number generator selects the cards. Some say this is more fair because it is truly random. Some people prefer live play because they fear that the computer generated numbers might be rigged. Both of these ways to play are not rigged, though and at legitimate casinos they go to great pains to prove that their number generators are completely fair to players.
How many players can take part?
The number of players taking part in a Texas Hold'em game online depends on how many people are available to join the particular poker room you are in. Just like in a live game, the number of players is limited to 10 and there must be at least two players to have a game. The more players, the more decks of cards are used per game. This is true whether you are in a virtual game or a live dealer game. Sometimes in a tournament they will allow up to 12 players per table, but this is an exception to the rule.
How can I improve my winning chances?
The best way to improve your chances of winning at Texas Hold'em is to practice, practice, and practice! Usually you can find free poker rooms at your favorite casino or poker site, and you should definitely take advantage of these as an opportunity to build your skills. Never join a real money game before you are confident in your ability to play. This is especially true if you are new to Texas Hold'em - even if you have played poker before, Texas Hold'em has its own rules and strategies that you should master before betting real cash.
How does it compare to other poker variations?
Texas Hold'em is the most popular poker variation out there today. The reason for this is simple - the majority of the cards are out there for everyone to see, giving free information to the rest of the table. This means that you can have a reasonable chance at predicting what the other hands on deck may be, and this can inform your betting and your chances to win. This adds a whole new level of psychological excitement to an already xciting and riveting game. It's no wonder why Texas Hold'em has become so popular that tournaments are even featured onsports channels like ESPN - this game is just more exciting than other versions, hands down!